Trash/Recycle Receptacles for the Square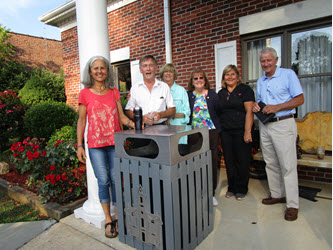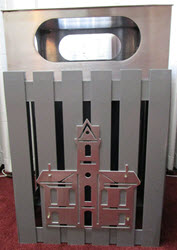 A Small Town/HHI project for new trash/recycle receptacles was unveiled in 2018 in front of the Town Hall and was completed in 2021 with all available receptacles placed around the square.

This project was steered by the Design Committee and used a local business to produce the receptacles which are placed inside the historic courthouse square and around downtown. Several examples of the trash and recycling receptacles can already be seen around the square. Each one has a beautiful aluminium representation of the courthouse. The recycling receptacles have a slightly different top design with smaller openings to discourage real trash disposal.
---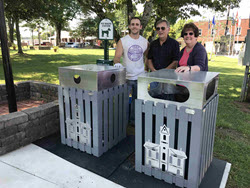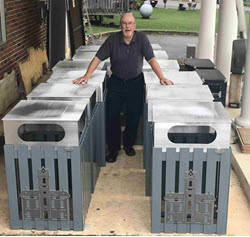 All receptacles were made by Lidseen of North Carolina, Inc. of Hayesville and were delivered in August. Ray Swanson and Melvin Swanson from Lidseen of NC set up this recycle bin with STMS Design Committee Chair Deborah Nichols. The recycle bin was produced as part of a grant received by the town and is paired with one of the waste bins donated by Clay County Communities Revitalization Association.
The recycling receptacles have been purchased using a grant from the Division of Environmental Assistance & Customer Service. Trash receptacles have been purchased by Historic Hayesville Inc., which is looking for donations from organizations or individuals to offset this expense. Recognition will be given to those who make donations to Historic Hayesville Inc. for at least one trash receptacle.
---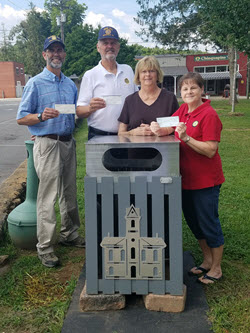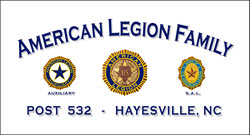 A small plaque will be placed on the trash receptacle, such as the one shown here, that is in recognition of the donation from the American Legion Family. The American Legion Family of Post 532, including Sons of American Legion and Post 532 Auxiliary, combined their three contributions for a waste bin which will be located on Herbert Street close to the Veterans Monument.