Hayesville, a small town with a big heart.
Readers Digest Nicest Place in America 2017 4th Place
Click here and read why.
Hayesville offers respite for many, surrounded by peaceful, breathtaking views of the Blue Ridge Mountains and Lake Chatuge.
Singer-songwriter Jordan Miller of Nashville, TN was moved to compose his song "Hayesville", the music use license for which, has been sponsored for a year by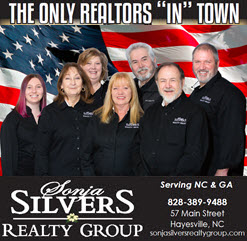 Listen and enjoy!
---
Hayesville is a small town with many small businesses that were really hit hard during the pandemic. HHI encouraged the community during those difficult times to show as much support as possible for them by extending the Shop Small Shop Local concept to year round. Most of our small business survived and HHI continues to actively promote the AMEX Shop Small Shop Local nationwide event. The event grows every year and our local businesses are flourishing once again.
Before the COVID-19 related lockdown, downtown Hayesville saw a major economic resurgence from the focused, revitalization efforts of local individuals and organizations tasked with development, redevelopment and economic vitality within the downtown area. Downtown was enjoying a booming, growing economy. There was real, visible and measurable transactions making our downtown a better place to live, work and play. See below what happened just in those last three years!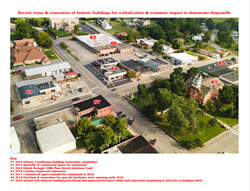 Join us.
Prepare and plan to participate in this anticipated most active period of economic opportunity.
There are a few opportunities in downtown properties for your new business location or expansion.


Contact Mayor Joe Slaton at (828) 389-1862
for details of downtown opportunities.
Downtown maps are available at the HHI Centennial Exhibit
and various locations around town.
---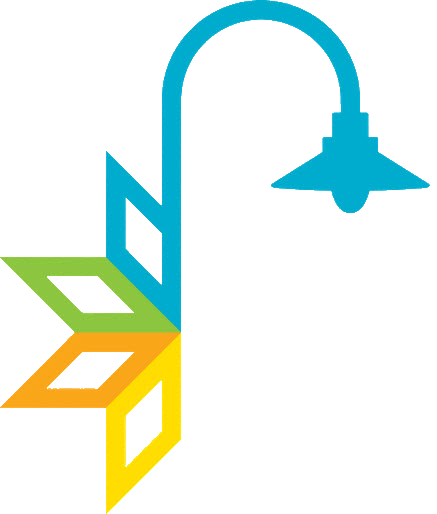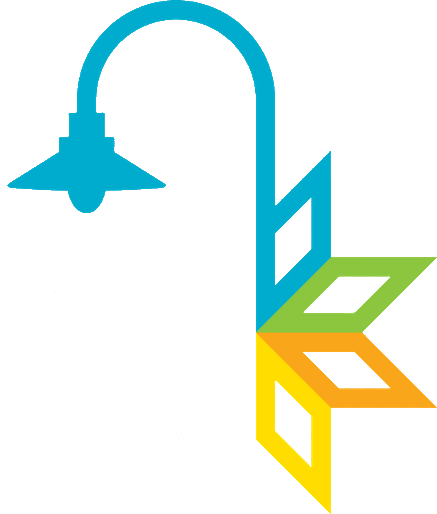 This is the 8th year of the Small Town Main Street program in Hayesville and grant opportunities are helping to sustain the work plans but additional donations are needed. Historic Hayesville Inc. is a 501c3 non profit corporation and administrator of the Hayesville Small Town Main Street program. See below to make a financial donation to HHI. See individual project descriptions for more details and how contributions for a specific project can be made.
As a Main Street America Affiliate™, Historic Hayesville Inc. is part of a national network of more than
1,200 neighborhoods and communities who share both a commitment to creating high-quality places and to building stronger communities through preservation-based economic development.
Main Street America™ | NC Main Street | NC Main Street Conference
Nationally Recognized. Locally Powered. ™

---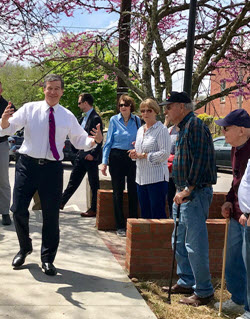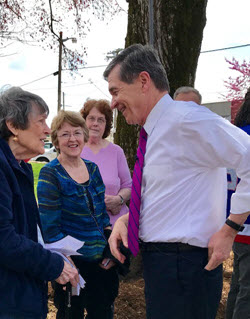 North Carolina Governor Roy Cooper visited Hayesville April 11th, 2019. He strongly supports the Small Town Main Street program. His proposed budget includes a listing in the Local Identified Projects section for a possible grant for the renovation of the historic brick building at the corner of Main and Herbert Streets into a boutique hotel.
He met with representatives of town and county government as well as local coalition and community leaders at Nocturnal Brewing, a 1950s building that was renovated through the Main Street Solutions Fund.
After the meeting, Mayor Harry Baughn led the governor to the courthouse lawn where he greeted locals before heading inside for a tour of the restored courthouse.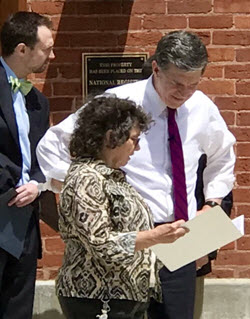 HHI Board Chair Sandy Zimmerman presented Gov. Cooper with a notebook featuring projects that were completed in 2017-2018 and future restoration plans for downtown buildings including the boutique hotel at the corner of Herbert Street and Main Street.
---
Sherry Adams, Western Coordinator for the NC Small Town Main Street Program, et al., came to Hayesville for the Annual Regional Meeting and were the VERY FIRST gathering and subsequent tour group of the newly restored Historic Hayesville Courthouse on the square on Friday, July 20, 2018. After the meeting and tour, attendees enjoyed lunch at a new downtown restaurant and a guided downtown "walkabout" to see all that our HHI/STMS program has achieved and is planning. Many enjoyed the Friday Night Concert on the Square and the official opening of the Courthouse celebration on Saturday.
---
Committee work plans
Pedestrian connectivity is in the STMS work plan.
Promotions Committee is working on new banners, way finding signs. The downtown map featuring businesses, art, history and cultural locations accessible by walking or bicycle trails has been completed and is in its fourth printing.
Economic Vitality group plans include promoting Small Business Saturday, recruiting new businesses and providing additional support to those already established in downtown.

Economic Vitality group volunteers will join the Design Committee this year to continue working with Mayor Baughn for safety and improved parking.

New recycle and waste bins have been a current project of the Design Committee. 9 sets have been placed inside and around the square leaving 1 set available. Plaque recognition will be given to organizations or individuals who make donations to Historic Hayesville Inc. for at least one bin.
A new project of the Design Committee, with help from HHI and FOHH (Friends of Historic Hayesville) volunteers and beginning in June 2019, will be the rehabilitation of the old Town Hall. Learn more about the project here.
---
Committees make plans!
Typical committee meeting consisting of volunteers making plans in Hayesville for various downtown projects that benefit everyone.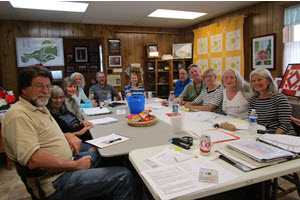 Volunteers make them happen!
Two happy Hayesville volunteers that have shucked what seems like bushels of local grown corn for sale at a fund raising event on the square.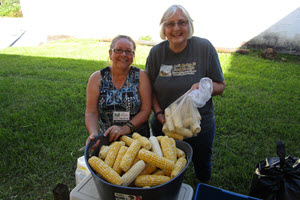 Friends of Historic Hayesville volunteers promoted events and summer flowers at the annual Small Town Main Street/HHI picnic on the square.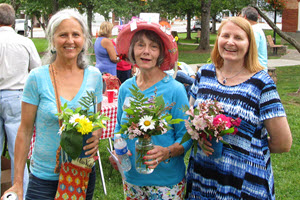 ---
Members of FOHH gather to celebrate all the wonderful successes that their hard work and long hours throughout the year have achieved and to share the holiday spirit.
Job well done!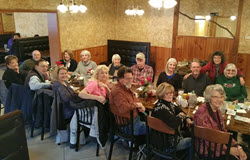 ---
Please support our efforts, consider a donation.



References: Information on this page and throughout the site is drawn from sources in the public domain or covered by the fair use doctrine unless otherwise stated.
Photographs are courtesy of Ron Wallace, Stephan Banakas, bobbystuff.com, Clay County Progress, partnership organizations and others. Art work is courtesy of Signs Fast Inc..