North American Quilt Trail Project
Clay County, NC is participating in the North American Quilt Trail Project. There are quilt trails in 43 states and 3 Canadian provinces and numbers are growing. A quilt trail is a series of painted quilt block squares installed at various locations along a route.
The very first barn quilt block was called an Ohio Star. In 2001, in Adams County, Ohio, Donna Sue Groves wanted to honor her mother with a painted quilt square on the family's barn. Her idea morphed into what became the first official quilt trail consisting of 20 barn quilt blocks along a trail through Adams County. The idea of a quilt trail has spread rapidly and has become the largest grassroots public arts movement in our history. Over 7000 quilt blocks are now part of organized trails with many more scattered throughout the countryside.
The Clay County North Carolina Quilt Trail is an ongoing project with its beginning in Hayesville. Here, the first barn quilt block was installed on March 31st, 2017 at the Historic Hayesville, Inc location in downtown and is called Triple Sunflower. The quilt blocks each have a name but over the many years it has been a common practice to change the name of the older patterns.
The planned quilt block walking trail is part of the Small Town Main Street/HHI Pedestrian Connectivity plan for downtown Hayesville. When completed, a map will be available featuring the blocks with other art and historical points of interest and businesses in downtown Hayesville.
The Barn Quilt Project
The team takes a well deserved winter break but will be back in the studio that is located in the rear of the HHI Centennial Exhibit in the spring.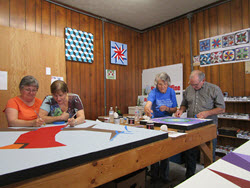 Many designs are available.
Visit downtown Hayesville and see many examples.
Each one is hand made and hand painted.
Sizes available are :-
24" X 24"
36" X 36"
48" X 48"
Custom sizes are available for additional costs.
This project is lead by Bev Adkins. Contact her directly for further information or to place orders for designs still available.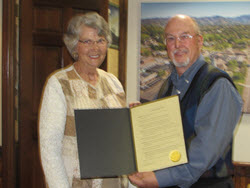 Hayesville Town Council and Mayor Harry Baughn honored Bev Adkins, project manager of the Historic Hayesville Inc. Barn Quilt project, at the November 2018 town meeting. The project which was started in 2017 has been very successful with 107 Barn Quilt Blocks displayed in downtown Hayesville and around Clay County. The project is ongoing and production of additional orders will resume in Spring of 2019 after a winter break.