2018 Steins and Wine Around The Square
featured
Mountain Area Wine, Beer & Food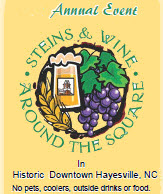 An annual favorite, a fundraiser sponsored by Historic Hayesville Inc for downtown projects, the 2018 ticket sales were donated to the Clay County Historical and Arts Council for Old Jail Museum repairs.

From late afternoon into the early evening, this event signals that the fall season is upon us and is a wonderful way to kick off seasonal activities, festivities and the holidays with friends. It is held on the first Saturday in October with a rain date of the following Saturday.
---
Wineries and Breweries welcomed attendees as they would at their individual tasting rooms or bars and visitors could purchase a glass or bottle to enjoy as they relaxed listening to music.
" A Taste of Hayesville" debuted at the 2018 event and featured foods from several new, local restaurants.

Besides the wine, beer and "A Taste of Hayesville" tables, other food, soft drinks and water was available.
2018 PARTICIPANTS

---
The list of exhibitors varies from year to year as new breweries and wineries join old favorites to make this event a "must do".
It has been recognized as part of the "wine trail" for the Upper Hiwassee Highlands AVA, (American Viticultural Area) an area of 100,000 acres of which only 130 acres are under vine – but that is continuing to grow as more "boutique" wineries get established.
Participating craft breweries are fast becoming a part of the WNC Brewers Alliance.
HHI is pleased to play a part in promoting economic growth of the area by providing this platform for new wineries and breweries to be successful.

---
The Hayesville Steins and Wine Around the Square event was the first of its kind in the area. It was born out of efforts by The Town 100 Committee that wanted to showcase a "Wine Around the Square" event in celebration of Hayesville's Centennial Anniversary in 2013. However, that required changes to local ordinances so that alcohol could be served. With approvals in place the event was a great success and has grown into the popular, now annual, "Steins and Wine Around The Square" of today.
This event is a Historic Hayesville, Inc. fundraiser to benefit downtown projects.