Wayfinding Signage & New Banners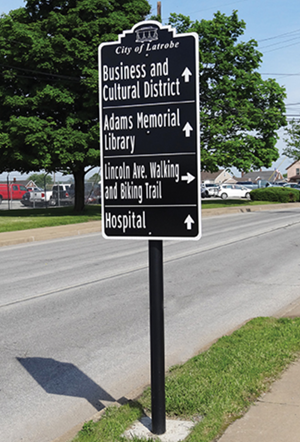 Wayfinding signs are an asset for downtown areas and Hayesville is no exception due to occasional lack of connectivity with GPS in our county. New signage has been in the Hayesville Small Town/Main Street work plan during the past 2 years. HHI Board members have collected photos of various examples for good directions when traveling to regional meetings.
The Small Town Design and Promotion committees will be working on a final prototype to attract visitors and provide directions to historic downtown Hayesville.
---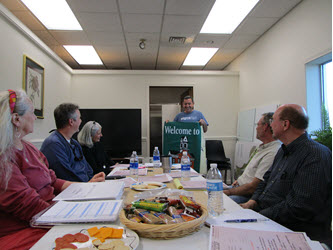 The committees have also worked on new banner designs and a downtown map for walking and cycling trails.

STMS/HHI Board members discussed options for new downtown banners at their February 2018 meeting with a presentation from Tony Wiegold, owner of Signs Fast.
Banner designs have now been finalized. There are a limited number available and examples can be seen around downtown. Businesses and individuals are encouraged to stop by HHI next to the Post Office to view a sample with the final coloring and detail, complete an application form, customize as required and choose a location.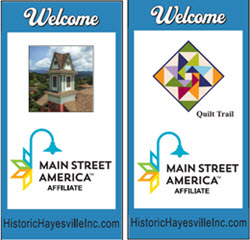 The Downtown map is also completed and ready for pickup at several locations about town.
---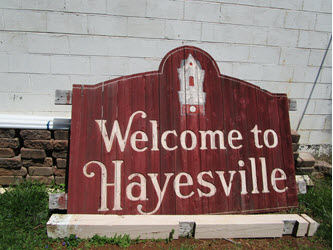 In addition to new wayfinding signs and banners, a vintage, custom wood sign will be restored, refinished and relocated on Hwy 64 Bus on approach to downtown across the street from the Quanassee Trail entry below the Old Jail Museum. STMS/HHI volunteers will complete the project.
Update -- the Welcome Sign has been Restored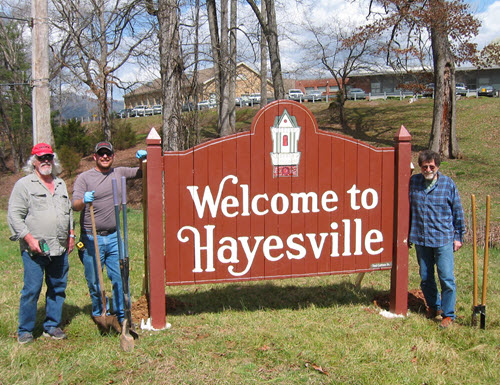 HHI volunteer Stan Rasmussen (L) was joined by Steve Johns and Tommy Davis of Woodhaven Construction on March 18, 2021 to install the refurbished wooden sign on Hwy. 64 Business.
Motorists will now see a restored welcome sign after passing around the traffic circle and Moore Plaza as they travel toward downtown Hayesville. The sign was originally designed by Ted Cotton Sr. in 1972 to welcome visitors but was later replaced by new signage at Highway 64 intersections. Historic Hayesville Inc. recovered the sign for a restoration project in conjunction with Clay County Historic and Arts Council and Clay County Communities Revitalization Association. Stan Rasmussen volunteered to repair the wood surfaces, updated the historic courthouse steeple motif and matched original paint colors to complete the project.
---
Information about these downtown projects is available at the HHI Exhibit. If you would like to support these projects, a donation can be made using a PayPal Account or Credit Card.
Please consider a donation to help the Wayfinding Signage project get underway.